WRITE BOOKS AND EBOOKS
TO HELP YOU
WRITE AND PUBLISH YOUR BOOK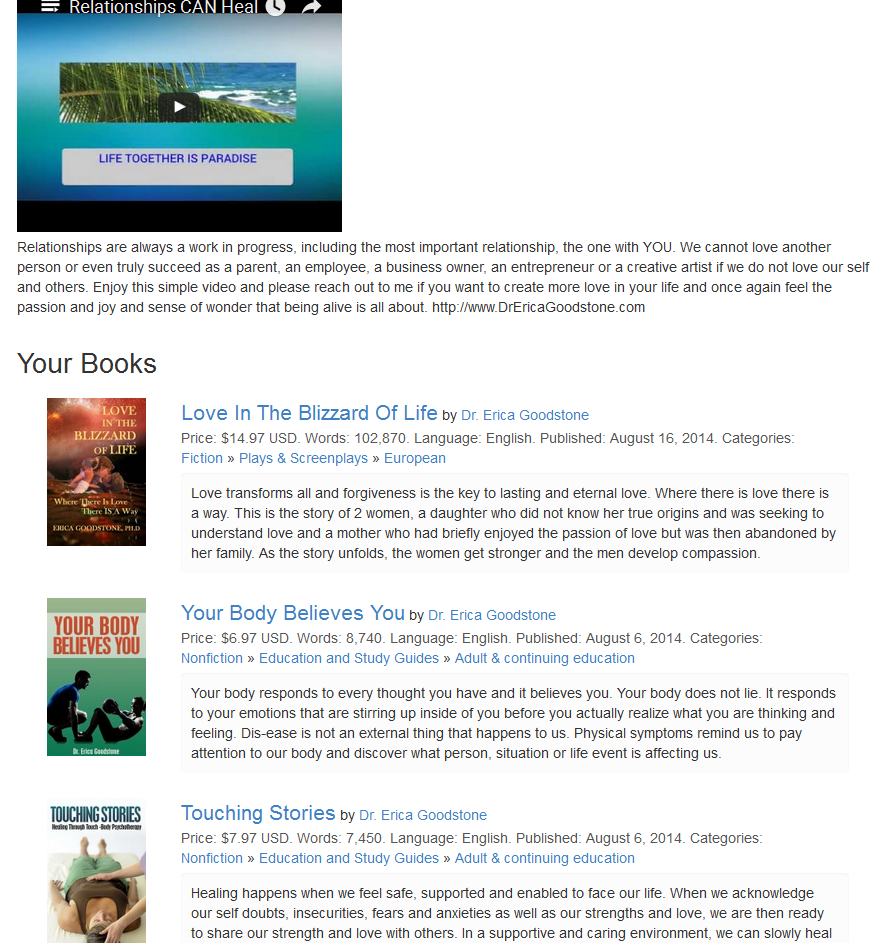 Write and Publish Your BOOKS and EBOOKS

This complete book is also available as 4 smaller books in the Love Me, Touch Me, Heal Me series. Each book will help you realize that you can find the solutions to most of your problems and concerns through self-reflection, self-acceptance and self-evaluation.
As you complete the exercises, you will literally begin to heal your cellular memories, create new brain patterns and remove lifelong blocks to intimate joyful relating. You may turn to professionals for guidance and support, but with this book you will begin to more fully trust your own inner knowing about what is truly best for your growth and healing.
Love Me, Touch Me, Heal Me is meant to be a coming out party, coming out of hiding, bringing your total self into the light for examination, acceptance, and readiness to share your true self openly and intimately with others.
Get Creative and Write Your Novel

A sensual and poignant romantic love story that takes the reader from America to a beautiful Greek island, to Switzerland, to Viet Nam, to Sweden and back to America. The story has many surprising twists and turns as the characters gradually learn to let go of the past and create love now. The overriding message is: "Where there is love there is a way."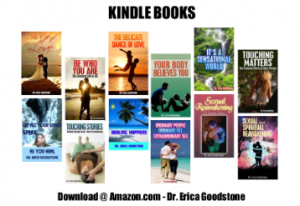 The Love Me, touch Me, Heal Me book series has been made available as smaller Kindle books for quick and easy reading. Expect to see many more Kindle books in the months ahead.
Write Chapters in Collaborative Books
Dr. Erica's Chapter is "Holistic and Touch Therapies"



Section D, II, Sexual Dysfunction, Counseling and Therapies
Dr. Erica's Chapter is "Reawakening Love"

Are YOU ready to manifest your dreams and
reawaken love in your life?
This easy to read, powerful little book, contains nuggets of wisdom from some of the most respected thought leaders around the world. Two people who appeared in the movie The Secret, Dr. Free Alan Wolf and Dr. Joe Vitale, along with best selling author Marilyn Joyce, prominent motivational speaker Brian Tracy, 20 authors from around the globe, and myself, have written a book of collected wisdom. Read each chapter and contemplate the changes you can instantly make in your life. Ready my chapter, Reawakening Love, and you will know that through love anything and everything is possible.
Dr. Erica's Chapter is "Sexual Reawakening"

Rubenfeld Synergists and their clients reveal the incredibly transformational effect of receiving gentle, respectful and caring touch while observing and listening to the body's messages. Each chapter is a poignant story of personal and intimate delving into fears, longings, disappointments, dreams and life experiences. In each chapter we witness the unfolding drama of truth breaking through illusion, allowing healing occur.
Dr. Erica's Chapter is "The Paradox of the Challenge"